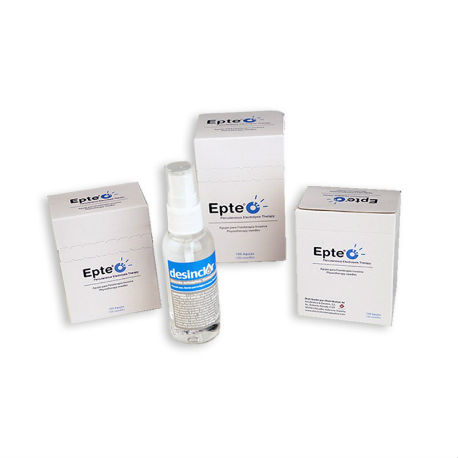 find out more about our training courses or request a quote to acquire this device.
EPTE® needles
EPTE needles are highly dynamic and specially designed for use in the practice of invasive techniques.
Made of surgical steel
Without oil, silicone or gel coating.
Microdot safety system
Pronounced conical tip for easier application of invasive physiotherapy techniques.
EPTE® needle offers
Pack of 10 boxes of special needles for use in the practice of invasive techniques.
If you are interested in these products you can purchase them from our online store
tDCS conductive gel
This gel acts as a conductor between the body and the electrode. It guarantees low impedance and excellent electrical signal stability. Reduces the risk of bridging between electrodes.
tDCS electrodes and sponges pack
Electrodes and sponges for placement on the scalp to apply tDCS transcranial direct current stimulation. Their round shape favours greater concentration of the current in the centre and penetration, therefore, more effectiveness in your treatments, according to scientific evidence.
Sponges for tDCS
4 units of sponges for specific electrodes of 35cm2 for use in the application of tDCS (Transcranial Direct Current Stimulation).
Get trained with our programmes
We recommend that you check the SPAM folder of your email account, in case you do not receive email in your inbox after sending the form.