EPTE® course: more than 500 students had participated in 2016 in the different EPTE® course: EPTE® Percutaneous Electrolysis Therapy, EPTE® inertial functional training and collaboration in basic  musculoskeletal ultrasound training.

The students in these EPTE® percutaneous electrolysis courses were able to observe the EPTE® support in the continuous updating of content. The EPTE® course is focused in practice, with 6 approaches in tendon injuries. The students try the technique on their own. Here you could find the view of some students who assisted to the EPTE® course during this year. Since following the training, many of these  therapists students are applying the technique with good results.
Testimonial: international EPTE® course
The EPTE® course celebrates several international editions this year. The first courses were in Spain, but there have been different courses held in Portugal (Lisbon, Porto, Coimbra), Italy (AS Roma, Cesena, Verona, in September, Rome), Mexico and Netherlands. These are the opinions of students:
EPTE® COURSE IN NETHERLANDS:
Kasper Kruijdenberg, physiotherapist: "I am excited to have learned this new technique I've been waiting a long time to be able to be trained in an invasive technique tendinopathies treatment."
EPTE® COURSE IN MEXICO:
Ingrid Mariel: "I was very interested in this certification because it is an invasive technique but almost painless. It means a hope to cure this injuries for us (the physiotherapists) . as they are the must difficult injuries  in our clinical practice."
EPTE® COURSE IN ITALY:THREE OFFICIAL EPTE® COURSE
EPTE® percutaneous electrolysis courses came last April, for the first time to Italy, training teached by Professor Alberto Muñoz. EPTE® course (taught in Italian) followed the same course structure than the EPTE® percutaneous electrolysis courses which have been followed by more than 1,300  physiotherapists throughout Spain.
The EPTE® percutaneous electrolysis therapy course has held an edition in Cesena (Emilia-Romagna), in Verona (Veneto) and the EPTE® course at the club AS Roma, one of the historic Italian Calcio. Coming soon (24 and 25 September) a new EPTE® course will be held in Rome

Damiano Stefanini, Physiotherapist AS ROMA
"It will be very important for us to use EPTE® in our clinical practice, specially with athletes we deal with in tendinous pathologies in the patellar, Achilles and plantar fascia to ensure that the player rejoins the team as soon as possible."
Simone Cocchiara, Physiotherapist (THE Clinic, Ragusa, Italy)

"I was waiting percutaneous electrolysis for so long and could not wait more to follow such a good training in Italy."
Mauro Parolin, Physiotherapy (Physio & Sport Polimedica, Padova, Italy)

"This is an innovative technique and I think the professionals have to continue training, looking to the future and new trends to give an increasingly better service to the patient, whether an athlete or the lady that comes every day to our clinic."
Course EPTE®: hundreds of physiotherapists, thousands of patients
After an EPTE® course, many physiotherapists are decided to complete their clinic treatments with EPTE® percutaneous electrolysis therapy. Not only they have an effective treatment equipment for tendon injuries applying micro-current virtually painless, with the CE sanitary certificate,  but they will benefit from all the advantages of being an approved EPTE® center.
Alejandro Bayo (C. Estudi del Peu) i Enric Herrero (fisio de la @uesantandreu) con su #EPTE #electrolisispercutanea pic.twitter.com/8I8ZN2Q754

— EPTE Electrólisis (@elecPercutanea) 14 de julio de 2016
Cristina de #Fixius centro homologado #EPTE cuenta con la eficaz herramienta #electrolisispercutanea Gracias! pic.twitter.com/BFPyGfmSJK

— EPTE Electrólisis (@elecPercutanea) 13 de julio de 2016
Els fisios del Club i RecuperATB fan curs de formació d'@elecPercutanea amb professor @DaniMartinFisio a Pontevedra pic.twitter.com/pgaBBD8TZe

— Atlètic Balears (@atleticbalears) 6 de julio de 2016
Thanks to the EPTE® course, EPTE® percutaneous electrolysis technique has reached several corners of the globe: Switzerland, Dubai, Guatemala, Mexico, Italy, Netherlands and even Japan. Celso Ricardo de Souza, Brazilian team physiotherapist Consadone Sapporo (Japan) came to Madrid to follow an EPTE® percutaneous electrolysis therapy course. Now,  EPTE® is one of the treatments he is  applying to some players of the team:
¡EPTE en Japón! El fisioterapeuta Celso, del equipo Consadone Sapporo "Estoy muy feliz con los resultados" pic.twitter.com/VKMCKXJIbI

— EPTE Electrólisis (@elecPercutanea) 8 de junio de 2016
Dr. Alvaro Bejarano (@Dr_Bejarano) Medical specialist in Sports Medicine (Col. No. 41.15061) was in the EPTE® course held in Sevilla:
"I wanted to see first hand the EPTE® technique because the information I had was that it is an effective technique in tendinopathies treatment. As a physician, I believe that we must manage this technique to correctly prescribe it along to the appropriate therapeutic exercise. I think thatEPTE® course is clear, with very grounded theoretical content and well assisted and guided practice. in short, it worths knowing and practicing it, in order to work better doctor and physiotherapist together, for optimal patient outcome."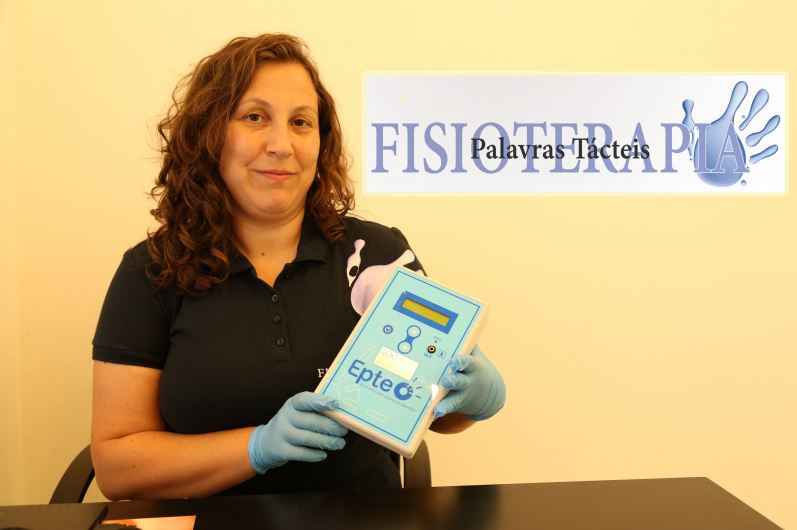 Maria Armanda Rodrigues, a portuguese physiotherapist, was in the EPTE® course held in Porto: "I had a successful experience in most cases Several have been able to quickly resolve the pain thanks to EPTE® percutaneous electrolysis therapy.."
Course EPTE® : Inertial Functional Training
The EPTE® Inertial Functional Training course has been another of the great innovations of training EPTE® this year 2016, with two editions. It allows to know the opportunities for the work with inertial functional training thanks to the new device EPTE® Inertial Concept:
Víctor Parra, Physiotherapist: ". The course is highly recommended as it has  very relevant content , it is a very versatile device both for working when an injury has just taken place or for the final phase: optimization, rehabilitation or sporting gesture".