The technique percutaneous electrolysis therapy EPTE® reaches the Premier League of Italian football. The doctors and physiotherapists of the AS Roma, one of the most important teams in the Italian Football League, had the opportunity to attend an EPTE® training to know how to recover the tendons affected by tendinopathies.  
The medical-sanitary team of the AS Roma received us in their official installations in Trigoria, a few kilometers from Rome, on the 6th of July 2016.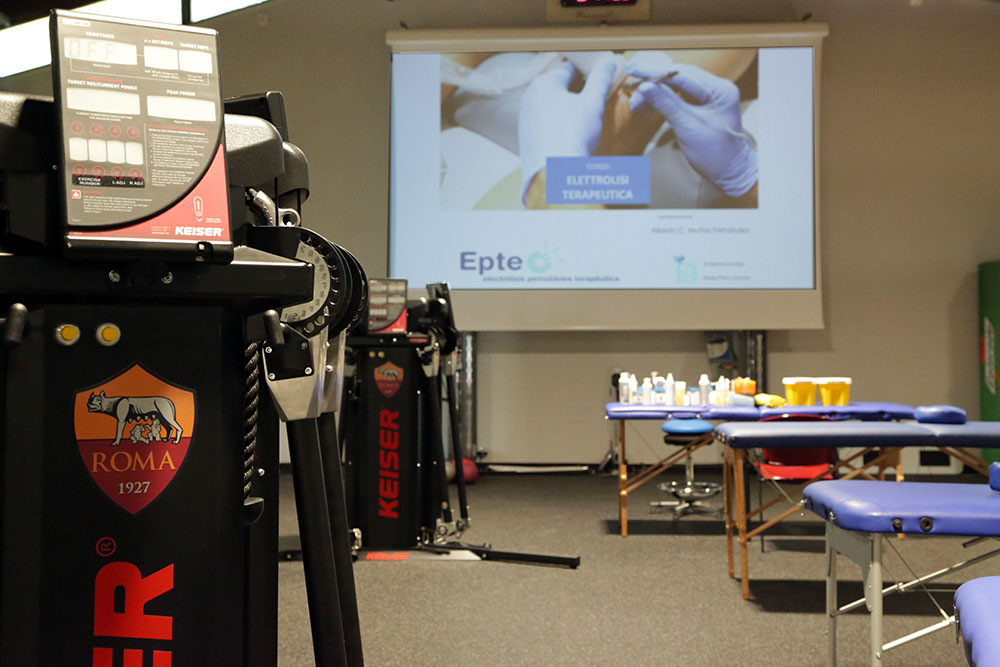 AS Roma acquires EPTE® Percutaneous Electrolysis Therapy
Developing tendinopathies is something very common for football players.  Among the diseases that practicing this sport may easily generate, we can find Achilles tendinopathy, patellar and groin injury. These injuries can become chronic and require specific treatment for optimal recovery.
The physiotherapist Damiano Stefanini and his colleagues from AS Roma explained that in the case of Leaguers, it is important that the recovery and return to sporting activity (which is also his professional occupation) are as fast as possible.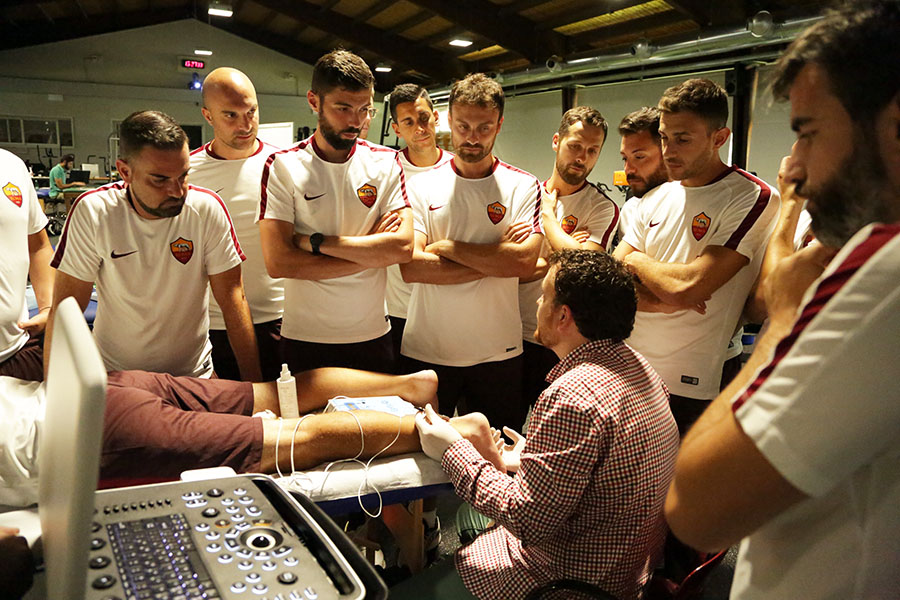 For this reason, the medical-sanitary team of the soccer club of Rome chose to trust in our EPTE® equipment for the regeneration of damaged tissues and to induce a quick and almost painless recovery for the patient.

EPTE® special course for AS Roma
The EPTE® course for the medical-sanitary team of the Roma football team, taught by our teacher Alberto Muñoz, was divided into two parts. The first part was dedicated to the theory about tendon injuries, scientific evidence, about the technique and its application. On the second part of the EPTE® course, the medical team of the club AS Roma had the opportunity to try and practice different approaches to the treatment of tendinopathies and tendinosis.
EPTE® percutaneous electrolysis therapy obtains more and more professionals every day who choose this technique to recover chronic tendon injuries. Activating the process of regeneration of damaged tissue, percutaneous electrolysis EPTE® allows a rapid and efficient recovery of movement and return to the sports activity.  
The Roma team, like some other football teams, knows it and chooses the EPTE® percutaneous electrolysis equipment to treat their players.
Thank you to Damiano Stefanini and to all the medical-sanitary team of the AS Roma for choosing EPTE® Percutaneous Electrolysis Therapy.